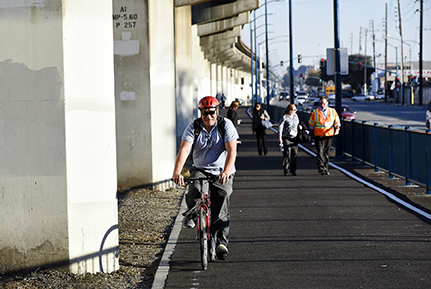 Alameda CTC is the project sponsor for the East Bay Greenway: Lake Merritt BART to South Hayward BART Project (Project). The Project proposes to construct a bicycle and pedestrian facility that will generally follow the BART alignment for a distance of 16 miles and traverse the cities of Oakland, San Leandro, and Hayward as well as the unincorporated communities of Ashland and Cherryland. The Project connects seven BART stations as well as downtown areas, schools, and other major destinations.
In September 2014, Alameda CTC leveraged available local Measure B and BB funds and was awarded funding from state Active Transportation Program (ATP) towards the environmental clearance for the Project, which involves securing State and Federal environmental clearance under the California Environmental Quality Act (CEQA) and National Environmental Policy Act (NEPA) respectively. Alameda CTC is the lead agency for CEQA and Caltrans is the lead agency for NEPA.
The cities of Oakland, San Leandro and Hayward, Alameda County, BART, the East Bay Regional Park District, and Caltrans are participating in the development of the project.
Project Benefits
Improve Cycle and pedestrian network connectivity in communities along the BART line
Improve access to regional transit, schools, downtown area and other destinations
Create a facility that is accessible and comfortable for bicyclists and pedestrians of all ages and abilities
Improve safety for bicyclists and pedestrians
Support promotion of a multimodal transportation system and reduction of greenhouse gas emissions
For total project cost and phase information, see project Fact Sheets tab.
The Draft Initial Study and Mitigated Negative Declaration (IS/MND) was released on October 23, 2017, and the public was provided 30-day review period as required by CEQA. The comment period closed on November 21, 2017. Alameda CTC conducted four Project Information Meetings regarding the Project, in the cities of Hayward, Oakland, and San Leandro. Participants had the opportunities to review
displays
, watch a multimedia presentation, interact with project team members, and submit written comments. Additionally, Alameda CTC used several methods to solicit comments on the IS/MND  including posting of notices on the Alameda CTC website and social media; posting flyers at local libraries; sending E-newsletters or E-blasts to stakeholder groups (elected officials, stakeholder agencies, and interest groups and individuals); and advertising in local newspapers for circulation in nearby communities. The
Final IS/MND
includes minor revisions and/or modifications since the release of the document for public review. None of the modifications noted result in "substantial revision" to the Draft IS/MND, requiring recirculation. Rather, the changes in the Final IS/MND provides clarifying information ("merely clarifies, amplifies, or makes insignificant modifications to the negative declaration") as specified in §15073.5(c)(4) of the CEQA Guidelines. The Alameda CTC Commission adopted the IS/MND at its meeting on March 22, 2018.
Public Information Meetings
Background Documents
Project Video (November 2017)
Final IS/MND
Draft IS/MND