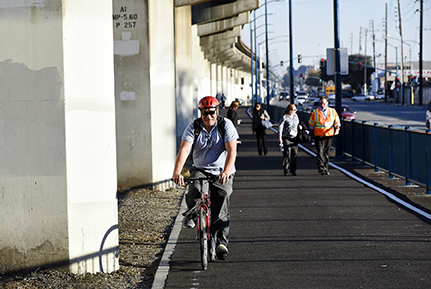 The East Bay Greenway is a proposed regional trail which would link BART stations. Alameda CTC is the project sponsor for the East Bay Greenway: Lake Merritt BART to South Hayward BART Project (Project). The Project proposes to construct a bicycle and pedestrian facility that will generally follow the BART alignment for a distance of 16 miles and traverse the cities of Oakland, San Leandro, and Hayward as well as the unincorporated communities of Ashland and Cherryland. The Project will connect seven BART stations as well as downtown areas, schools, and other major destinations.
Implementation of the East Bay Greenway from Lake Merritt to South Hayward is being pursued in two phases. Phase 1 consists of an "all ages and abilities" regional bikeway with pedestrian, transit, and placemaking improvements along city streets, connecting BART stations from Oakland to Hayward. Subject to funding, Phase 1 can be implemented within 3-5 years. A longer-term Phase 2 would provide an off-street trail facility in the BART corridor with potential linear park enhancements, but requires significant funding and right-of-way acquisition from Union Pacific Railroad. See the Phase 1 and Phase 2 tabs for additional details.
Project Benefits
Improve Cycle and pedestrian network connectivity in communities along the BART line
Improve access to regional transit, schools, downtown area and other destinations
Create a facility that is accessible and comfortable for bicyclists and pedestrians of all ages and abilities
Improve safety for bicyclists and pedestrians
Support promotion of a multimodal transportation system and reduction of greenhouse gas emissions
For total project cost and phase information, see the project Fact Sheets tab.
East Bay Greenway Multimodal, Phase 1
Alameda CTC is leading the implementation of Phase 1 of the East Bay Greenway from Lake Merritt BART to South Hayward BART. The project is being implemented in partnership with Oakland, San Leandro, Alameda County, and Hayward and would construct a regional bikeway running via City streets connecting seven BART stations from Oakland to Hayward. The project alignment would run via San Leandro Street, San Leandro Boulevard, East 14th Street, Mission Boulevard, and spur roadways connecting into BART stations, and improvements would consist of shared use paths and separated bikeways. The project implementation is also being coordinated with near-term recommendations from the
East 14th Street/Mission Boulevard Multimodal Corridor project
, including bus stop enhancements to improve speed and passenger comfort, pedestrian crossing safety improvements, and placemaking elements to spur economic development. These improvements will be constructed along with the East Bay Greenway as a combined multimodal project. Alameda CTC seeks to implement Phase 1 of the East Bay Greenway within 3-5 years (subject to securing competitive grant funding).
East Bay Greenway, Phase 2
A longer-term East Bay Greenway Phase 2 would construct an off-street regional trail facility in the BART corridor connecting between Fruitvale BART and South Hayward BART, a distance of approximately 13-miles. Phase 2 generally provides the same biking and walking connections as Phase 1, but offers the potential for a linear-park style facility with separate bridges at major street crossings, recreation amenities, and wider, more separated trail facility. Alameda CTC studied and environmentally cleared Phase 2 from 2016-2018. Phase 2 is being pursued on a longer timeframe due to the high-cost and need to acquire right-of-way from Union Pacific Railroad. Alameda CTC studied two design options as part of prior environmental documents. A rail-to-trail option assumes the abandonment and acquisition of the entire Union Pacific Oakland Subdivision north of Industrial Parkway in Hayward. A rail-with-trail option assumes that the Oakland Subdivision remains an active rail line and right-of-way is acquired to construct a trail in a shared rail-trail corridor. Both options would require Union Pacific to agree to provide necessary ROW and local jurisdictions to agree to own and maintain the facility.
Project Documents
Final State Environmental (CEQA) Document
Draft CEQA Document