San Pablo Avenue is a key corridor that links the Alameda County cities of Oakland, Emeryville, Berkeley, and Albany, as well as cities in western Contra Costa County. There is an urgent need for safety improvements along the corridor, which has the third highest rate of injury collisions in Alameda County. San Pablo Avenue also serves as the second busiest corridor for AC Transit bus riders. Alameda CTC is leading three complementary near-term project components to improve safety and transit along the San Pablo Avenue corridor. The three project components are:
Safety Enhancements Project (Berkeley and Albany). This project will improve the safety for pedestrians and bicyclists crossing San Pablo Avenue and improve transit speed by installing high visibility crosswalks, flashing beacons, pedestrian signals, median refuge islands, upgraded lighting, accessible curb ramp upgrades, bulb outs at Rapid bus stops, and bus stop relocations.
Parallel Bike Improvements Project (Berkeley, Albany, and North Oakland). This project will implement improvements along bike boulevard/neighborhood bikeway routes that run along and connect to San Pablo Avenue, including traffic calming, crossing treatments at busy streets, and signage/wayfinding.
Bus and Bike Lanes Project (Oakland, Emeryville, and South Berkeley). This project will improve transit speed and reliability by converting one vehicle travel lane in each direction to a dedicated bus lane and provide new cycling connections by converting parking lanes to protected bike lanes. The project will also include intersection safety improvements, bus stop consolidation, and new loading zones. Bus and bike lanes are not currently proposed in Berkeley north of Heinz Ave.
The three projects were identified as part of an extensive Phase 1 corridor planning effort between 2017 and 2020, based on community preferences expressed within the different jurisdictions.  See the Key Materials tab for fact sheets with more information on project schedule and the Project History tab for more information on past corridor planning efforts.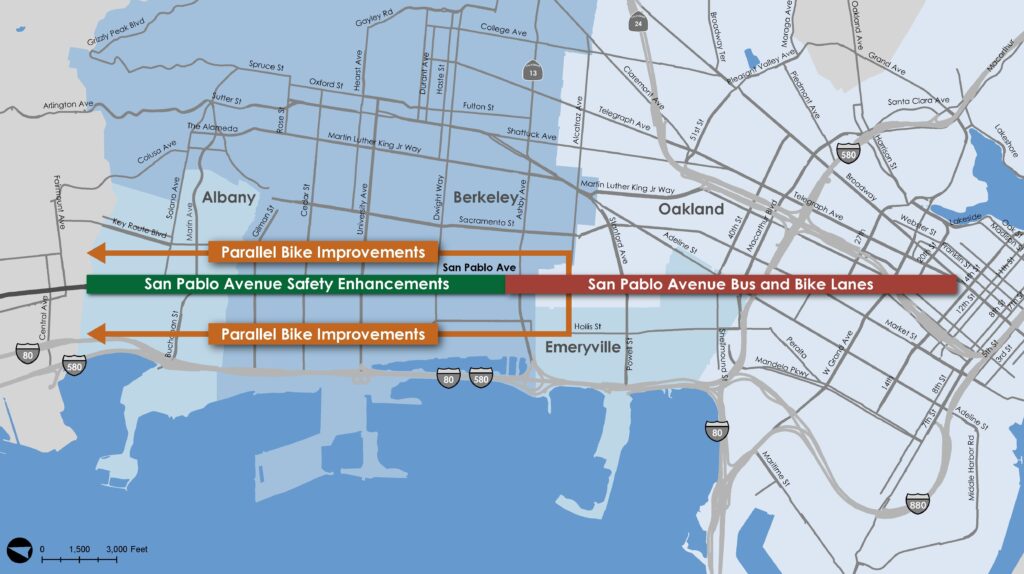 Project Fact Sheets
Safety Enhancements and Parallel Bike March 2023 Open House Materials
Agency Board Presentations
In spring 2023, Alameda CTC gathered public input on designs for the Safety Enhancements and Parallel Bike projects in Berkeley, Albany, and North Oakland. The project team is now considering the input received as part of the detailed design process and will share more information at upcoming city transportation commission presentations. Alameda CTC anticipates conducting additional community outreach on designs for the Bus and Bike Lanes Project in Oakland, Emeryville, and South Berkeley in fall 2023. For questions on the project, or to be added to the project email list and learn about upcoming opportunities to provide input, contact
sanpabloave@alamedactc.org
.
Phase 1 (2017-2020)
Phase 1 of the San Pablo Avenue Corridor Project began in 2017 and concluded in 2020. Phase 1 explored a long-term vision for the San Pablo Avenue corridor from Oakland to the Cities of Richmond and San Pablo, traversing seven cities in Alameda and Contra Costa Counties. Phase 1 evaluated a wide variety of configurations for San Pablo Ave., exploring what transportation modes could be accommodated within the limited right-of-way and trade-offs between different concepts. Given the limited right-of-way, each alternative required tough trade-offs. The in-depth public engagement process revealed that participants placed the highest priorities on making walking safer and the bus more reliable. There was also widespread support for safer bike facilities either on San Pablo Ave. or on nearby bike routes. The greatest support for significant changes to San Pablo Ave. was in Oakland and Emeryville, especially for a bus lane to make bus service faster and more reliable.
Phase 1 Summary Report
Phase 1 Public Outreach
Approximately 3,900 people participated in the Phase 1 outreach process, which ran from fall 2017 to summer 2019. That process identified and refined long-term concepts and alternatives for the corridor and included:
A map-based online survey that collected information about hotspots needing improvement along the Corridor
An online survey to understand business access needs distributed to merchants throughout the Corridor
An online survey to get feedback on priorities that elicited more than 2,000 responses; distributed at events, workshops, via email, and on social media
A shorter intercept survey, conducted at busy locations along San Pablo Avenue that also sought feedback about priorities
Pop-up outreach at neighborhood events, at which people could view illustrated concepts and provide feedback
Community workshops where participants were asked to provide input about priorities and visions for the corridor
Focus Group meetings with key stakeholders where participants completed reference matrices and staff took detailed notes to record qualitative feedback
Links
Phase 1 Existing Conditions Report