I-680 Sunol Express Lanes (between SR-84 to SR-237)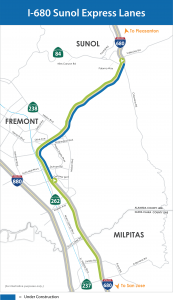 On Thursday, October 29, 2020, both the southbound and new northbound I-680 Sunol Express Lanes opened to HOV ONLY (carpools with 2 or more persons; motorcycles, transit vehicles, and eligible clean air vehicles) usage during operating hours (Monday through Friday, 5 a.m.-8 p.m.). Tolling will begin in early 2023. Express Lanes are open to all traffic outside of operating hours. During this temporary change, toll tags are not required on I-680 Sunol. Check back for updates about the new express lane rules.
Interstate 880 Express Lanes Open
The Metropolitan Transportation Commission opened the Interstate 880 (I-880) Express Lanes on October 2, 2020. To learn everything about how to use the I-880 Express Lanes, go to expresslanes.511.org. Available resources include a video playlist, FAQs and maps.
Express Lanes Capital Projects