Interstate 580 (I-580) serves as an important east-west connection that runs the length of Alameda County from the Central Valley to the Bay Bridge. It is an important travel and freight corridor, carrying over 200,000 vehicles per day and approximately 20,000 truck trips per day. The Altamont Pass, which connects Almeda County to the Central Valley, experiences the highest level of truck activity of any roadway in the Bay Area. The I-580 Transit and Multimodal Corridor Strategy (I-580 TAMS) is a planning effort that will evaluate ways to sustainably and equitably support existing and growing travel demand in the corridor. The resulting document will be a Comprehensive Multimodal Corridor Plan (CMCP) for the I-580 corridor, which creates eligibility for state funding for the recommended projects in the plan.
I-580 TAMS Approach
Understand effects of different lane configurations of I-580 on driving, goods movement, carpooling and transit ridership.
Evaluate feasibility of express lanes, express bus, dedicated lanes for buses, and clean-fueling for trucks and transit along the corridor.
Identify opportunities to increase connectivity and safety of walking, biking, and taking transit to access local BART and rail stations that support using BART and rail in the corridor.
Work with partner agencies, major employers, and communities to identify and refine strategies that advance goals from the 2020 Countywide Transportation Plan.
Prioritize strategies and identify next steps for the most promising recommendations.
This corridor strategy will inform the next Countywide Transportation Plan and updates to Plan Bay Area, the regional transportation plan.
I-580 Corridor Study Area Map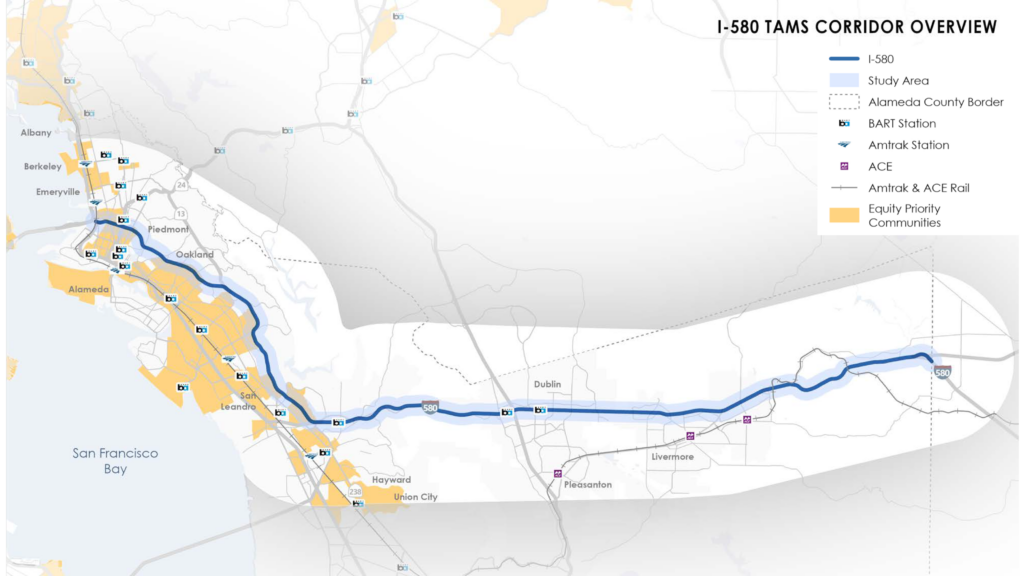 (
Click the map
to view a larger version.)
Corridor Study Area
The "corridor" includes the interstate together with the transit services that serve the same travel pattern as the freeway, the bicycle and pedestrian facilities that connect to and through the corridor, and the adjacent neighborhoods and business districts that rely on and may be affected by changes in the corridor. The "study area" is a buffer of a half-mile on either side of the freeway right-of-way and select rail stations immediately adjacent to the freeway. This planning effort will evaluate conditions along the corridor and within the study area.
We are interested in hearing your feedback on ideas for the I-580 Transit and Multimodal Strategy! In-person events are currently being planned for April 2023. These will be hosted by community-based organizations in Equity Priority Communities, which are areas with a high concentration of lower-income households and people of color, along the I-580 corridor. We will release an opportunity to provide input online via an interactive webmap later this spring.
I-580 is one of the most heavily-traveled freeways in Alameda County, carrying significant intra-county traffic as it serves East, Central, and North county. Alameda CTC has made significant investments in and improvements along I-580 over the past two decades, including the construction and operation of the I-580 express lanes in the Tri-Valley. The I-580 TAMS builds upon the following assessments and plans: