The Alameda County Rail Safety Enhancement Program (RSEP) was developed as an outgrowth of the recommendations included in the Alameda County Goods Movement Plan approved by the Commission in 2016. Since 2016, 22 fatalities and 17 injuries have occurred along the rail corridors. The goals of the RSEP are to:
Provide safe at-grade crossings for all users, particularly near schools, Priority Development Areas and Equity Priority Communities
Reduce the unnecessary fatalities or severe injuries at the at-grade crossings
Increase fright service reliability along rail corridors
Reduce greenhouse gasses by encouraging goods movement by freight and encouraging mode shift for active transportation by removing barriers to active transportation facilities at the at-grade crossings
Development of the RSEP is split into two phases—RSEP-A and RSEP-B—to achieve the project goals and construct improvements in a three to five-year timeframe. A prioritization framework for the at-grade crossings was approved by the Alameda County Transportation Commission in 2018 as part of the Rail Strategy Study that narrowed the 133 at-grade crossing locations in Alameda County to 56 locations. For more information regarding each phase of the Project, continue to the respective tabs for each project phase. At-grade crossings for the RSEP are located in the cities of Berkeley, Fremont, Hayward, Livermore, Oakland, San Leandro, Union City, and in the Alameda County communities of Ashland, Cherryland and San Lorenzo. Project partners include the California Department of Transportation, the California Public Utilities Commission and Union Pacific Railroad.
RSEP: Phase A and Phase B Crossings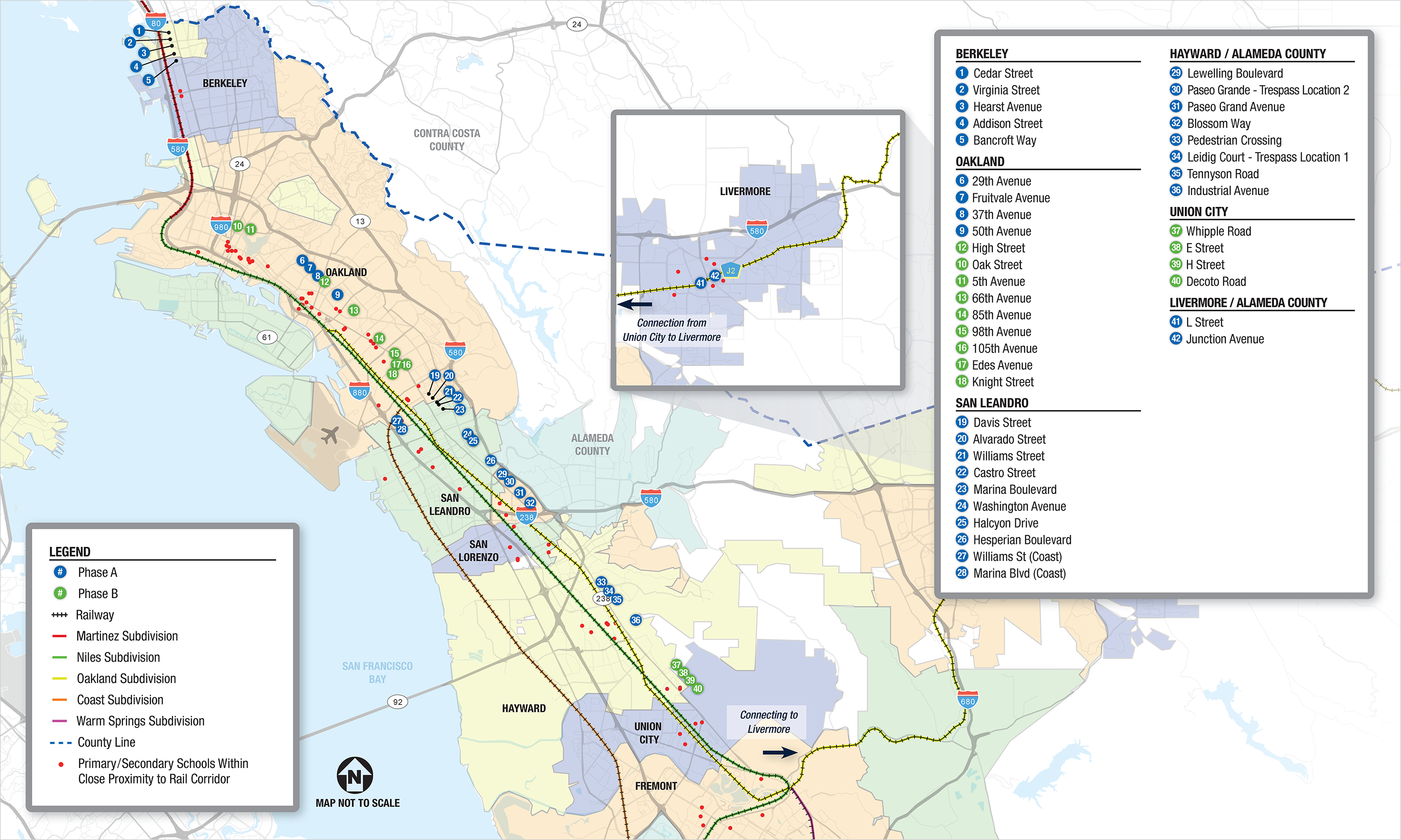 Rail Safety Enhancement Program – Phase B (Coming soon.)
Improvements for the RSEP are being funded locally by Measure BB and federally with the $25 million Federal Railroad Administration Consolidated Rail Infrastructure and Safety Improvement (CRISI) Grant –the largest CRISI grant awarded in California and the second largest in the nation. See the full
press release.