Alameda CTC is hosting a two-year Bikeways Academy to support implementation of bikeways designed for all ages and abilities throughout Alameda County.
The highlight of the Academy was the Bikeways Implementation Workshop on October 19, 2023, which was designed to support government leaders in overcoming barriers to bringing high-quality bikeways to their communities. For more information and resources from the workshop and other past academy sessions, please see below.
The next session of the Bikeways Academy will focus on a forthcoming white paper on Phasing and Implementation Strategies. The date for this session will be announced.
Past Academy Sessions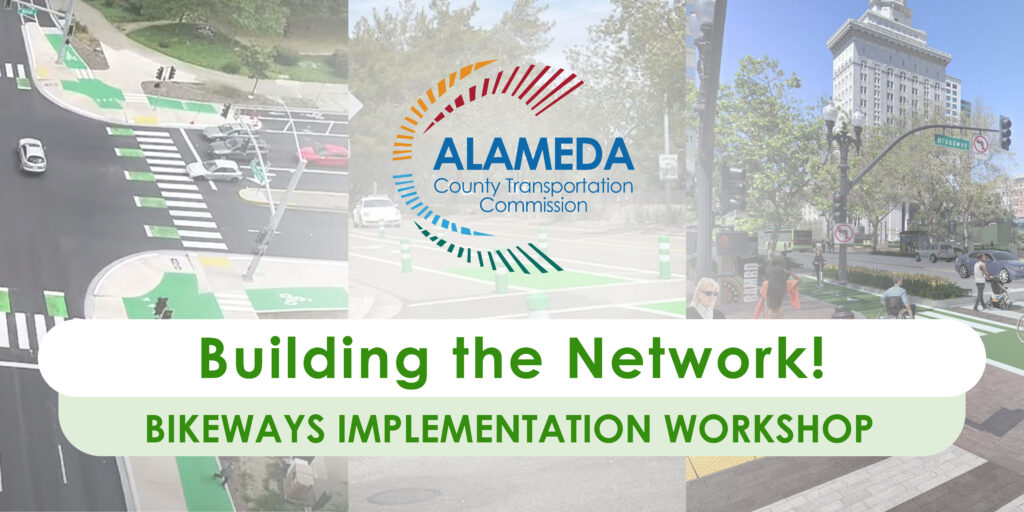 Alameda CTC's Bikeways Academy Implementation Workshop
October 19, 2023, from 9:30 AM – 2:30 PM
This workshop, held on October 19, 2023 designed to support government leaders in overcoming barriers for bringing high-quality bikeways for All Ages and Abilities to their communities. The event featured dynamic discussions, panel presentations, and success stories from around Alameda County and across the United States, all highlighting policies and strategies that attendees could take back to their communities to deliver the highest quality bikeway projects.
Workshop Materials:
Video Recordings:
Agenda Summary
:
9:30 AM: Registration and Refreshments
10:00 AM: Welcome and Fireside Chat

Alameda CTC Chair and Emeryville Mayor John J. Bauters will moderate a dynamic discussion with current and former elected officials from beyond the Bay Area to offer national perspectives on pathways to "yes" for transformative bikeway projects.
Speakers:

Meghan Sahli-Wells, California Director for Elected Officials, Protect America; Former Mayor of Culver City, California
Councillor Marc McGovern, City of Cambridge, Massachusetts
Commissioner Rodney Ellis, Harris County Precinct One, Texas
Mayor Farrah Khan, Irvine, California

11:00 AM: Session 1 - Setting Up for Success: Policies that Support Implementation

Transportation leaders will present key policies and how they help inform bikeways implementation by disrupting "business as usual," including policies on the Safe System Approach, All Ages and Abilities Bikeways, and Equity. Dedicated opportunities for attendee Q and A will be included.
Speakers:

Eric Engelbart, Deputy City Manager, City of San Leandro
Therese Trivedi, Assistant Planning Director, Metropolitan Transportation Commission
Sergio Ruiz, Chief, Office of Transit & Active Transportation, Caltrans District 4 Bay Area

12:10 PM: Lunch
1:00 PM: Session 2 - Local Project Spotlight Panel: Building the Network!

Building on lessons from the morning session, this panel will spotlight local success stories that highlight how Alameda County cities are leveraging policies to build the bikeways network. A high-level discussion on what strategies they put into practice will be included as well as dedicated attendee Q and A.
Speakers:

Noe Veloso, Assistant City Engineer, City of Fremont
Mike Tassano, Deputy Director of Community Development, Transportation and City Traffic Engineer, City of Pleasanton
Charlie Ream, Senior Transportation Planner, Planning and Project Development, City of Oakland Department of Transportation

2:30 PM: Program Close
The first Bikeways Academy training, a virtual "Lunch and Learn" webinar presentation and discussion, was on April 26, 2023. The training reviewed design fundamentals and introduced a major update to the 
Bikeways Design Resource
. The video and slides are available online:
Alameda CTC hosted the second session of the Bikeways Academy on July 13th: Getting to Yes: Phased Delivery and Implementation Strategies. The training covered strategies for incremental delivery of bike projects and creative solutions to common challenges. The 90-minute training featured a panel discussion on phased delivery strategies to build an All Ages and Abilities bike network over time with local and national expert speakers, including:
A recording of the presentation and full deck are located here:
complete our training evaluation
. This helps us develop content for future presentations, and will directly inform the Phasing and Implementation to be published in late 2023.