For the 11th year in a row, the CWC reports full compliance with specific caps, and that auditors identified no accounting concerns. Read the full Report to the Public.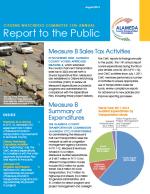 "Alameda CTC is responsible for allocating Measure B sales tax dollars for a wide range of transportation programs and projects that expand access and improve mobility, and the CWC is responsible for providing independent oversight of these expenditures to demonstrate to voters and businesses of Alameda County that Measure B is delivering on its promise," said Citizens Watchdog Committee Chair James Paxson. "The review and analysis done by the CWC play a key role in making sure that Measure B funds are spent in accordance with the wishes of the voters."
The report, covering fiscal year 2011-2012, notes that audited income and expenditures were in compliance with specific caps and that the auditors identified no accounting concerns. It also provides an update on the delivery of voter-approved programs and projects funded by Measure B, Alameda County's half-cent sales tax for transportation improvements.
Executive Summary/Flyer
Annual Report to the Public
En Español (Spanish)
中文 (Chinese)
About the Alameda CTC Citizens Watchdog Committee
The Citizens Watchdog Committee is made up of 17 members, all of whom must be a resident of Alameda County. CWC members are not elected officials at any level of government nor public employees from agencies that either oversee or benefit from the proceeds of the sales tax measure. Members are appointed for a two-year term, as follows:
One per district, appointed by the Board of Supervisors.
One per district, appointed by the Mayor's Conference.
One per representing organization specified in the Expenditure Plan:

Alameda County Economic Development Alliance for Business
Alameda County Labor Council
Alameda County Taxpayers' Association
Alameda County Paratransit Advisory and Planning Committee
East Bay Bicycle Coalition
League of Women Voters
Sierra Club