Alameda CTC is now located at 1111 Broadway, Suite 800 in Oakland, just one block south of our previous office.
Alameda CTC Has Moved!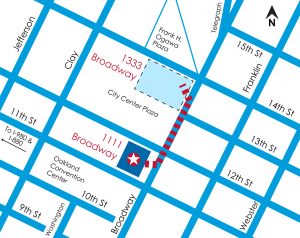 We are still conveniently located near the 12th Street/City Center BART station and many AC Transit bus lines.
Our new address is:
Alameda CTC
1111 Broadway, Suite 800
Oakland, CA 94607
Our phone and fax numbers have stayed the same!
Phone: 510.208.7400
Fax: 510.893.6489
www.alamedactc.org
Our public meetings are now held on the 8th Floor, just off the elevator. If you have any questions about the new office or need more information, contact Laurel Poeton at lpoeton@alamedactc.org or 510.208.7415.
To plan your trip to Alameda CTC, visit http://511.org/.