The 10th Annual Mobility Workshop will be held on Monday, October 7, 2013 from 9:30am-3:30pm at the Ed Roberts Campus in Berkeley.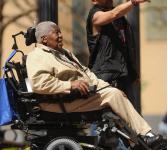 Join us at the Ed Roberts Campus at 3075 Adeline Street in Berkeley on Monday, October 7, 2013 from 9:30 a.m. to 3:30 p.m. for "Building Healthy, Mobile, Independent Communities," sponsored by the Alameda CTC and its Paratransit Advisory and Planning Committee. The theme is keeping seniors and people with disabilities functioning with maximum independence and encouraging health and social networks. Use hashtag #PAPCOMobilityWorkshop to share thoughts, ideas and photos during the workshop.
Mobility management is gaining traction in the Bay Area and increasingly being implemented at the county level. This year's workshop will look at how new technology and innovative design will change the game. It is designed to give us the tools and technical expertise necessary to understand and plan for these exciting changes.
If you would like to attend the workshop, please RSVP by September 27 to Naomi Armenta, Alameda CTC Paratransit Coordinator, (510) 208-7469 or narmenta@alamedactc.org. Space is limited, so don't delay!
For more information, see the workshop invitation.