Alameda CTC's GRH program has changed from a voucher program to a reimbursement program as of January 1, 2014. Register for this free program now! Note: all previous participants must re-register.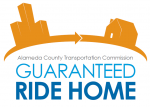 To better ensure program participants have access to a Guaranteed Ride Home (GRH) if and when they need it, Alameda CTC has changed GRH from a voucher program to a reimbursement program, similar to programs in San Francisco and Contra Costa counties. This will eliminate the need for participants to have a voucher in order to use the program. All existing and new participants need to register here to be eligible.
Why the change?
·  Participants will have instant access to rides home without the need of a physical voucher.
·  Alameda CTC's paper footprint will be reduced by eliminating frequent mailings and print vouchers.
The Alameda County Guaranteed Ride Home Program does just what it says. It guarantees you a ride home from work if you have an emergency and you have made the effort to avoid commuting alone in your car. You can feel comfortable taking the bus, train, or ferry, carpooling, vanpooling, walking, or bicycling to work, knowing that you will have a ride home in case of illness, family crisis, unscheduled overtime, or a missed rideshare trip. The program is free and open to anyone who works in Alameda County.