Students from 100 elementary, middle, and high schools in Alameda County walked, bicycled, scootered, carpooled and rode transit to school for International Walk & Roll to School Day.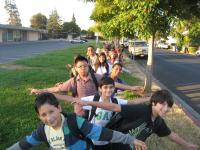 Wednesday, October 9, 2013 was International Walk & Roll to School Day. Sponsored by the Alameda County Transportation Commission, this year's event involved thousands of students at more than 100 participating schools.
This event is part of Alameda County's Safe Routes to Schools Program, a countywide collaboration that promotes safe walking and biking to school. International Walk and Roll to School Day is the kickoff to a full school year of Safe Routes to Schools programming to encourage walking and bicycling to school, as well as carpooling and public transit use.
For more information about the program visit: www.alamedacountysr2s.org.
Read the press release.