I-680 Sunol Express Lanes (between SR-84 to SR-237)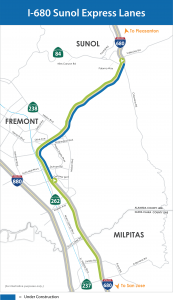 On Thursday, October 29, 2020, both the southbound and new northbound I-680 Sunol Express Lanes opened to HOV ONLY (carpools with 2 or more persons; motorcycles, transit vehicles, and eligible clean air vehicles) usage during operating hours (Monday through Friday, 5 a.m.-8 p.m.). Tolling will begin in early 2023. Express Lanes are open to all traffic outside of operating hours. During this temporary change, toll tags are not required on I-680 Sunol. Check back for updates about the new express lane rules.
Located along a 14-mile stretch of I-680 from State Route 84 south of Pleasanton to State Route 237 in Milpitas, the I-680 Sunol Express Lanes are currently open to carpools and HOV-eligible users only. Tolling will begin in early 2023, with new operating rules. Check back soon to learn the new rules.

Governance
The I-680 Sunol Express Lane is governed by the Sunol Smart Carpool Lane Joint Powers Authority, and was funded with State, Federal, and local funds. Alameda County's voter-approved local sales tax Measure B provided nearly half the funding for the Express Lane. Usage of the express lane has increased steadily since inception.
The I-680 Sunol Southbound Express Lane has been in operation since September 20, 2010. Construction of the project involved converting High Occupancy Vehicle (HOV) lanes to High Occupancy Toll (HOT) / express lanes along southbound I-680 from south of State Route 84 to north of State Route 237. The conversion required additional roadway widening and installation of tolling equipment throughout the project corridor.
Alameda CTC formed a partnership with the Federal Highway Administration (FHWA), California Department of Transportation (Caltrans) and the California Highway Patrol (CHP) to develop and implement the I-680 Express Lanes Project. The project, which will construct a new northbound express lane along this same corridor and convert the southbound express lane to continuous access, broke ground in April 2018. Beginning August 10, 2020, the I-680 Sunol Southbound Express Lane began operating in HOV ONLY mode during operating hours. This was a necessary step in the transition to the new toll system, allowing for completion of the civil construction work. The new northbound express lane opened for use, also in HOV ONLY mode, on October 29, 2020. Tolling will resume in the southbound lane, concurrent with the start of tolling on the new northbound lane, in early 2023.
Environmental Process
A Draft Environmental Impact Report/Environmental Assessment (EIR/EA) was prepared for the I-680 Northbound HOV/express lane project for public circulation beginning in November 2014. The final Environmental Impact Report/Environmental Assessment (EIR/EA) was approved July 2015.