The cost of transportation to school has often been cited as a barrier to attendance and participation in extracurricular activities. To begin addressing this issue, voter-approved Measure BB—revenues of which are guided by the 2014 Alameda County Transportation Expenditure Plan (TEP) —included $15 million to implement an Affordable Student Transit Pass Program (STPP) pilot. Working closely with community stakeholders, the Alameda County Transportation Commission (Alameda CTC) designed a three-year pilot and ultimately created a free transit pass program for public middle and high school students in Alameda County. STPP goals include:
Reduce transportation access barriers to and from schools
Improve transportation options for Alameda County's middle and high school students
Build support for transit in Alameda County
Develop effective three-year pilot programs
Create a framework for a countywide student transit pass program
Based on lessons learned from the pilot, Alameda CTC's Commission approved the use of two program models:
In school districts where 75 percent or more of students are eligible for Free and Reduced-Priced Meals (FRPM), a "Free/Universal" program is provided where every enrolled student is eligible to participate in the STPP.
Other participating STPP school districts are eligible for the "Means-based/Free" program where students can participate, if they qualify for FRPM.
Middle and high school students who apply for the program receive a youth Clipper Card loaded with a free bus pass. Students also can add cash value to their Clipper Card to access youth discounted fares on other transit services, including a 50 percent discount on BART fares.
Pilot Program Ends and Ongoing Program Begins
Because the three-year STPP pilot was scheduled to end July 31, 2019, Alameda CTC's Commission approved the continuation and expansion of the program beyond the pilot period in December 2018. The expanded program proceeded with a phased expansion to all school districts in Alameda County over a five-year period guided by a set of Commission-approved criteria that focus on the following principles:
Maintain financial need as key criteria for expansion
Continue the program in all currently participating schools
Focus on students at schools with transit services and Perform district-based expansion, and
Incremental phase expansion over time
The first year of the ongoing program expansion (2019-2020) tripled the number of participating schools.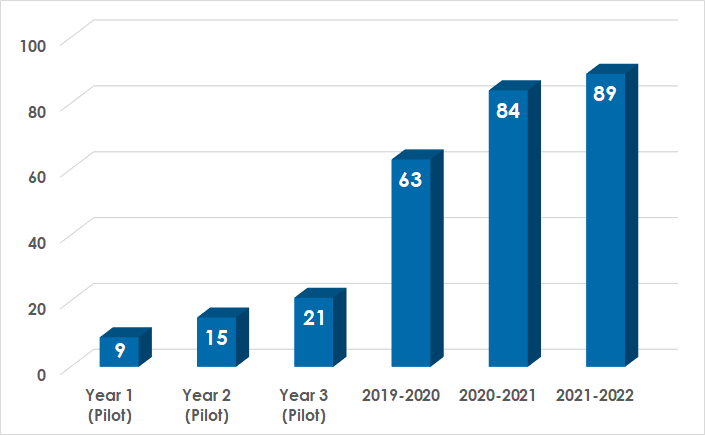 Today the ongoing program involves more than 12,500 students in 89 schools, and continues to expand in service to diverse areas across the Alameda County. And it offers transit passes for three transit systems—AC Transit, LAVTA/Wheels and Union City Transit—that connect students to schools, after-school activities and job locations throughout the County.
STPP Overcomes COVID-19 Restrictions
In light of COVID-19 and the uncertainties that it presented with all schools at the beginning of the 2020-2021 school year with remote learning, the STPP team introduced an online STPP application to ensure that program benefits reached students and families quickly during that time.
STPP is starting in its third year of the expanded program, and for the 2021-2022 school year, the program now serves 15 school districts and 89 schools throughout Alameda County. And within the next five years at the end of the phased expansion, over 140 schools and approximately 58,000 students in Alameda County will have access to the Student Transit Pass Program.