On March 28, 2013, Alameda CTC approved the implementation of a paperless meeting-packet distribution process.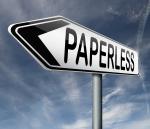 Paperless distribution of Commission, committee and subcommittee meeting packets is underway. Unless notified otherwise by April 30, 2013, Alameda CTC will electronically distribute all future packets.
Alameda CTC Chair Supervisor Scott Haggerty says, "Reducing the Commission's paper consumption was a big priority for me. I'm proud that we voted unanimously at our March meeting to implement paperless distribution of meeting packets. We promote environmental sustainability in transportation, and now we are doing so in our business practices."
Alameda CTC is mailing out packets to its Commission Standing Committees and Community Advisory Committees in April to allow members the opportunity to notify Alameda CTC if they need to receive hard copy agenda packets.
How you will now receive Alameda CTC agenda materials
Alameda CTC meeting agendas will be provided to the Commissioners, advisory committees and the public through two manners as described below:
Via Email: All Commission and advisory committee members will receive an email from Alameda CTC that details the meeting date, time and location. This email will include a hyperlink to the Alameda CTC website that will specifically link to that meeting agenda. All Alameda CTC meeting agendas posted to the website contain hyperlinks to supporting materials such as staff reports for individual agenda items.
Via Website: All Alameda CTC agendas will continue to be posted and hyperlinked on the Alameda CTC website one week prior to each meeting for Commission/committee members and members of the public to access. Meeting agendas and packets are on the Alameda CTC website at the following location: http://www.alamedactc.org/events/month/now
If paperless distribution is not an option that will work for you, and you would like to continue to receive hard copies of meeting packets, please contact Vanessa Lee, Clerk of the Commission, at vlee@alamedactc.org or (510) 208-7436 no later than April 30, 2013 and specify which packets you require in hard copy.
Thank you for supporting Alameda CTC's continued efforts to implement sustainable and ecologically friendly business practices.