Students walked, biked and carpooled as much as possible in March to compete in the "Pollution Solution Golden Sneaker Contest."
Students in more than 60 schools across Alameda County competed in the contest as part of the Alameda County Safe Routes to Schools Program. The annual contest challenged students to increase their walking, biking, carpooling and transit use to reduce emissions and increase physical activity. Contest participation has increased from 12 schools in 2011 to 58 schools this year.
After tallying the results, McKinley Elementary School in San Leandro showed the greatest increase in the number of students using active and shared transportation during the 2013 Golden Sneaker Contest, earning it the Platinum Sneaker Award. McKinley Elementary will be honored for its success by the Alameda CTC at its March 28, 2013 Commission meeting.
For more information, see the press release.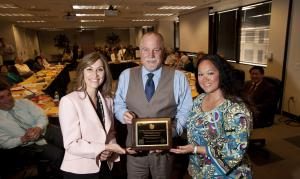 Alameda CTC Chair Supervisor Scott Haggerty presents
the Golden Sneaker Award to McKinley Elementary School
Principal Cher Situm, left, and McKinley Elementary's Golden
Sneaker Parent Champion, Darlene Lee.