About $13 million is available in CA for vehicles, radios and dispatching software to assist private nonprofit corporations and public agencies that provide paratransit services.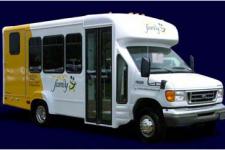 The California Department of Transporation and the Metropolitan Transportation Commission have released a Call for Projects with Federal Transit Administration Section 5310 funding. The Section 5310 Program provides capital grants for vehicles/ radios/ dispatching software to assist private non-profit corporations and public agencies (under certain conditions) to provide transportation services for elderly individuals and individuals with disabilities. About $13 million in funding is available for California. There is no local match requirement due to Caltrans using Transportation Development Credits!
Applications are due to the MTC by 5 p.m. and to Alameda CTC by 4 p.m. on March 11, 2013. 
To obtain the most current application and instructions, visit the Caltrans website (www.dot.ca.gov/hq/MassTrans/5310.html). For MTC submission guidelines, visit the MTC website (www.mtc.ca.gov/funding/FTA/5310.htm).
If you are interested in applying, please notify Naomi Armenta to receive the Caltrans Applicant Workshop PowerPoint, Alameda County's Application and Coordination Information and MTC's Coordinated Plan Supplemental Instructions.
Alameda CTC is also offering Application Pre-Review. Please strongly consider taking advantage of this opportunity. Even a partially completed application, with placeholders for some attachments, will help us advise you on submitting a winning application. Applications for pre-review are due to Naomi Armenta via email by 5 p.m. on Friday, February 22, 2013. 
For more information, contact Naomi Armenta or visit the Alameda CTC Section 5310 web page.
Naomi Armenta
Alameda County Paratransit Coordinator
Email: narmenta@alamedactc.org
Phone: (510) 208-7469