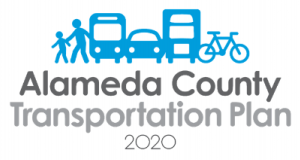 Alameda CTC staff have been working on an update to the Countywide Transportation Plan (CTP) since mid-2019. The CTP is updated every four years and focuses on promoting sustainability, access, transit operations, public health and economic opportunities through an integrated, multimodal transportation system. This update assessed travel needs for all modes throughout the county and captures both near-term and long-term projects.
Discussions were held with partner agency staff and Commissioners during April and May in Alameda County's four planning areas with regard to needs assessment findings, priority projects and strategies to be focused on for the next 10 years. There was general consensus on the identified needs in each planning area, and revisions suggested for the draft 10-year priority list to better represent local priorities in each planning area. Strategy categories include:
Advance Equity – An outgrowth of Community-Based Transportation Plan findings that identify mobility needs for Alameda County low-income and minority communities and/or communities of concern.
Safe Systems Approach – Emphasis on the support for projects that address the high-injury network, communities of concern and for SR2S site assessments. Also, this approach will reform how speed limits are set.
Complete Corridors Approach – Support/lead multimodal corridor projects, manage reduction in cut-through traffic and develop model parking policies and programs for private coaches and trucks.
Partner to Advance Regional and Megaregional Issues – including interregional rail service, express lanes paired with bus prioritization/transit fare integration and seamless transit connections.
Transit Accessibility and Transportation Demand Management – Continues expansion and enhancement of the Student Transit Pass Program and tracks the Clipper START Program for low-income riders.
Automated and Electric Future and New Mobility – Will provide local assistance and support information exchange for technology trends, support policies and legislation that encourage shared automated vehicles and implement the New Mobility Strategy that will ultimately facilitate implementation of emerging transportation technologies and services in Alameda County.
In July, Alameda CTC staff updated the Commission on all core CTP recommendations and new COVID-19 strategies, which will now move forward into a final round of public outreach. The COVID-19 approach includes strategies to:
Support economic stabilization and recovery
Capitalize on the need for safe walking and biking spaces
Support vulnerable populations threatened by COVID-19
Support transit recovery and to help people feel safe on transit
Encourage agile and flexible responses in the face of uncertainty
To manage risks and opportunities involved with the pandemic, Alameda CTC will continue to monitor sales tax revenue, traffic congestion, transit ridership and stimulus funding to effect quick responses to any unforeseen issues.
All of the aforementioned strategies and actions are in preparation of the draft plan. For detailed information on the progress of the plan, go to Alameda CTC's CTP web page. An ONLINE SURVEY on the draft plan will be available to the public this summer and online focus groups will share their thoughts on the draft plan in September before the Final CTP goes to the Commission for adoption in fall/winter 2020.