The Countywide Transportation Plan (CTP) is a long-range policy document that guides decisions and articulates the vision for Alameda County's transportation system over a 25-year planning horizon. It lays the groundwork for an investment program that is efficient and productive. The plan serves as Alameda County's input to the Regional Transportation Plan. In May 2016, the Commission adopted the most recent Countywide Transportation Plan.
The 2016 CTP update reflects coordination with all 15 local jurisdictions, six transit operators and community and agency stakeholders across the county to identify and prioritize the transportation projects and programs for Alameda County through 2040.
The most recent 2016 CTP update informed the Metropolitan Transportation Commission's Regional Transportation Plan (Plan Bay Area 2040) update. In 2018 Alameda CTC began development of the next CTP, which will be adopted in 2020.
The 2016 CTP update builds on the 2012 CTP update in addition to the ongoing planning development efforts for the Countywide Goods Movement Plan, the Countywide Multimodal Arterial Plan and the Countywide Transit Plan.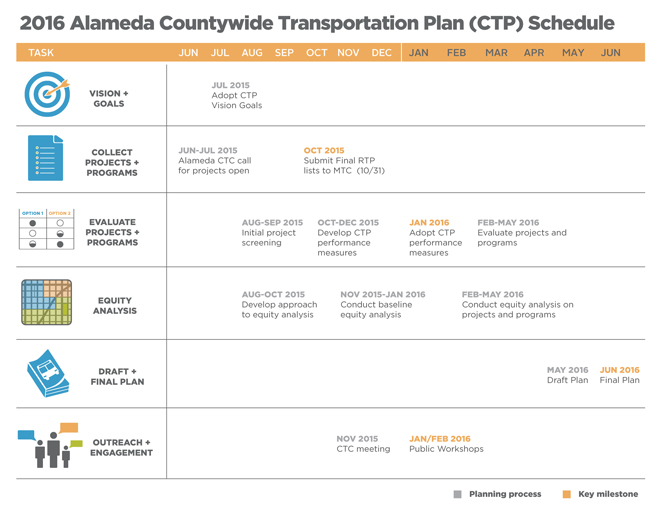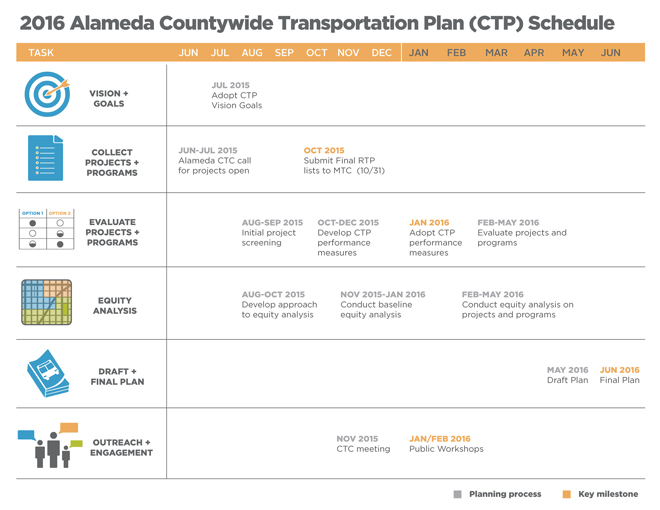 For detailed information about Community-Based Transportation Plans, click here.