The Alameda County Safe Routes to Schools (SR2S) Program is celebrating the success of two countywide events—the Golden Sneaker Contest, a popular annual tradition, and Creation for Transportation, a brand-new event—in which thousands participated.
Creation for Transportation: February 1―28, 2021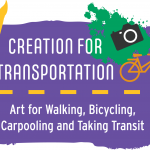 Alameda County Safe Routes to Schools Program's newest event, Creation for Transportation: Art for Walking, Bicycling, Carpooling and Taking Transit, provided high school students with a physically-distanced and engaging way to reflect on the impacts of their transportation choices. During the month of February, students submitted artwork that inspired their community to walk, bicycle, carpool and take transit to improve their community through improved health, environmental justice, or community building.
This year's winners are:
1st place: Devin Keppard-Tongue and Sidney Tchanyoum from McClymonds High School
2nd place: Lily Flagg from Castro Valley High School
3rd place: Dae Fernandes from Castro Valley High School
Please visit the event webpage to see their artwork and learn more about each artist,
Golden Sneaker Contest: March 1―5, 2021Over 7,000 students in over 300 classrooms participated in the virtual 2021 Golden Sneaker Contest from their homes and neighborhoods by walking, biking, scooting, skating, taking transit, using supportive mobility devices, and engaging in indoor physical activities. Teachers polled their classrooms to tally how many students used active and shared modes during the event week. The classroom at each school with the highest rate of active travel was awarded a Golden Sneaker award.
The SR2S Program presented Sunset Elementary School in Livermore with the countywide Platinum Sneaker award. Sunset Elementary had the highest participation rate in the County across their 12 participating classrooms with 87 percent of participating students at Sunset Elementary using active or shared transportation, or did some physical activity indoors during the event week.