I-680 Sunol Express Lanes (between SR-84 to SR-237)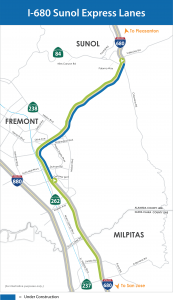 Effective Thursday, October 29, 2020, both the southbound and new northbound I-680 Sunol Express Lanes are open to HOV ONLY (carpools with 2 or more persons; motorcycles, transit vehicles, and eligible clean air vehicles) usage during operating hours (Monday through Friday, 5 a.m. – 8 p.m.), until tolling begins in fall 2021. Express Lanes are open to all traffic outside of operating hours. During this temporary change, toll tags are not required on I-680 Sunol. Check back soon for updates about the new express lane rules coming in 2021.
For additional information on this temporary change, see the press release.
Interstate 880 Express Lanes Open
The Metropolitan Transportation Commission opened the Interstate 880 (I-880) Express Lanes on October 2, 2020. To learn everything about how to use the I-880 Express Lanes, go to expresslanes.511.org. Available resources include a video playlist, FAQs and maps.
Express Lanes Capital Projects