Students from more than 125 Alameda County Schools participated – focusing on safety, health and reducing traffic and air pollution.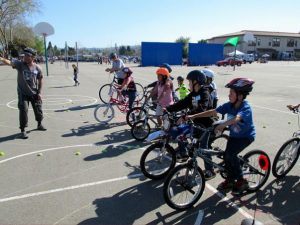 Thousands of Alameda County students saw the benefits of getting to school by walking, riding or scooting on Wednesday, October 7 — International Walk and Roll to School Day. Alameda County's Safe Routes to Schools Program supported events at schools throughout the county and numerous visits by the BikeMobile to schools all week. Of the schools that participated, 75 percent of students traveled to school by walking, biking, scooting, transit or carpooling.  Alameda County Supervisor Scott Haggerty, chair of Alameda CTC, participated at a special event at Kolb Elementary School in Dublin on Wednesday morning, reminding students, parents and educators of the many benefits of walking or rolling to school instead of traveling by car. More than 80 percent of Kolb students participated in the event – getting to school without a car.
"International Walk and Roll to School Day aims to be a catalyst for change — inspiring long-term healthy routines of walking, cycling or scooting to school and improving sidewalks and paths," says Supervisor Haggerty. "We know students can be healthier, happier and do better in school when they are more physically active."
Now approaching its 10-year anniversary, the Safe Routes to Schools Program continues as an effective method of getting more children and families to safely use green modes of transportation, including biking, walking, using public transit and carpooling. With more than 150 schools already participating in the program and 30 more schools expected to join, Safe Routes to Schools is on track to increase its number of student participants this year — securing its ranking as one of the most active and successful Safe Routes to Schools programs in the country.