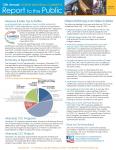 For 13th Year in a Row, Measure B Sales Tax Expenditures in Compliance with Expenditure Plan.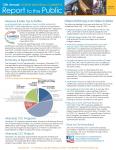 Alameda CTC's Citizens Watchdog Committee (CWC) has released its 13th Annual Report to the Public, covering fiscal year 2013-2014 expenditures and CWC activities through June 2015. The report confirms that Alameda CTC's audited income and expenditures were in compliance with specific caps, and the auditors identified no accounting concerns. It also provides an update on the delivery of voter-approved programs and projects funded by Measure B, Alameda County's half-cent sales tax for transportation improvements approved by 81.5 percent of voters in 2000.
The Citizens Watchdog Committee was created in 2002, after reauthorization of the local sales tax measure in 2000, to represent the different perspectives of taxpayers throughout the county and to review all Measure B expenditures on projects, programs and administration for compliance with the Expenditure Plan. Approximately 60 percent of the sales tax revenues, net of administrative funding, funds programs, and approximately 40 percent, net of administrative funding, funds capital projects. One of the committee's responsibilities is to issue an annual report to voters and taxpayers on the sales tax fund expenditures.
The CWC is undergoing a name change to the Independent Watchdog Committee (IWC). The 2014 Transportation Expenditure Plan, which guides the expenditures of Measure BB (approved by Alameda County voters in November 2014), requires the development of the IWC. The IWC is a continuation of the CWC and will report directly to the public on Measure B expenditures and Measure BB expenditures and performance measures of the agency. In 2016, the IWC will release its first annual report to the public.
Read the August 31, 2015 Press Release.
Request a printed copy of the Report to the Public.