The 3.2 mile Automated Guideway Transit system that connects the BART Coliseum Station to the Oakland International Airport began service Saturday, November 22, 2014.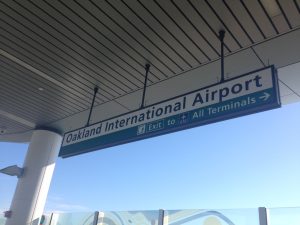 This fast, frequent and convenient transit service will run from 5 a.m. to midnight Monday – Friday, from 6 a.m. to midnight on Saturdays and 8 a.m. to midnight on Sundays and holidays connecting the BART Coliseum Station in Oakland to the front door of the Oakland Internataional Airport.
Local, regional. state and federal dollars, including a significant investment by the local sales tax for transportation – Measure B  – are responsible for this critical project.
Read the fact sheet.
Learn more about service details from BART's project webpage.