Healthier kids, friendlier communities, better air quality — through Alameda County's Safe Routes to Schools (SR2S) program.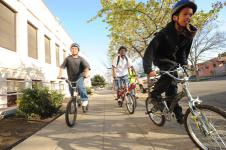 Now in its 6th year, the SR2S program is helping students, parents and schools to encourage kids to safely walk, bike or carpool to school. The time to join SR2S has never been better as kids start back to school this fall.
More than 100 elementary, middle and high schools in Alameda County are participating this year, and applications are still being accepted. Participating schools receive assistance from a site coordinator, and are eligible for free program activities including a puppet show, walking and rolling contests and celebrations, bicycle rodeos and helmet safety programs, and free bike repair from the BikeMobile — a mobile bike repair shop.
For more information, see the press release, fact sheet or visit these websites: