On Thursday, June 13, 2013, Alameda CTC and partners broke ground on the I-580 Westbound HOV Lane and Corridor Improvement Projects.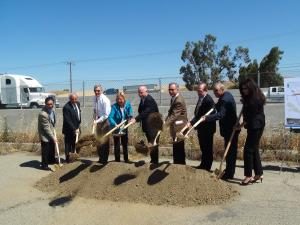 The projects' planning and funding agencies including Alameda CTC, the California Department of Transportation and the Metropolitan Transportation Commission and a number of elected officials representing the local jurisdictions participated in the groundbreaking, recognizing the importance of this corridor to regional economic development and freight movement.
The groundbreaking celebrated a suite of corridor investments, including a new 13-mile westbound high-occupancy vehicle (HOV) lane, from Greenville Road overcrossing in Livermore to the San Ramon/Foothill Road overcrossing in Dublin/Pleasanton; an eastbound auxiliary lane between Isabel Avenue and First Street in Livermore; as well as widening of two eastbound bridges at Arroyo-Las Positas. These projects, anticipated to be complete in fall 2014, will reduce congestion, encourage carpools and improve air quality along this critical mobility corridor, while setting the stage for future high-tech mobility improvements.
"These projects are part of a larger series of capacity and operational improvements we have delivered and will continue to deliver to this region into the future," said Alameda CTC Chair and Alameda County Supervisor Scott Haggerty, "including the 580/680 interchange improvements funded in part by the very first Measure B, investments in Route 84, the Isabel Avenue Interchange and the Eastbound HOV lane. Measure B dollars, combined with local, regional, state and federal fund sources, have resulted in over $1.3 billion in investments in the Tri-Valley."