Alameda CTC is implementing the OneBayArea Grant Program in Alameda County.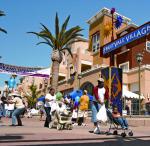 The OBAG program adopted by the Metropolitan Transportation Commission in May 2012 supports California's climate law, SB 375, which requires a Sustainable Communities Strategy to integrate land use and transportation to reduce greenhouse gas emissions. OBAG is funded by federal funding sources.
Alameda CTC is estimated to receive $63 million over four fiscal years (FY 2012-13 through FY 2015-16) from the OBAG program for transportation investments in Alameda County. Per the OBAG requirements, Alameda CTC must use 70 percent of the funds to support Priority Development Areas. The Metropolitan Transportation Commission has requested an OBAG program recommendation from Alameda CTC by June 30, 2013.
For more information, see the Alameda County OBAG Implementation Fact Sheet, the press release and the Alameda CTC Outreach Schedule that summarizes outreach activities on a monthly basis for fiscal year 2012-2013.