More than 125 Alameda County schools and 60,000 students are participating in Safe Routes to Schools events this month, leaving cars at home and walking, biking or rolling to school.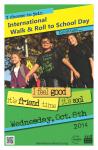 Join the Alameda County Safe Routes to Schools program in celebrating International Walk & Roll to School Day on Wednesday, October 8. 127 schools throughout Alameda County are celebrating by encouraging families to leave the car at home and walk, bike, or roll to school.
Read the Media Advisory here.
Read about the work San Lorenzo High School students are doing in partnership with Safe Routes to Schools to improve transportation around their school. En español.
The Alameda County Safe Routes to Schools program has been advocating for active, healthy kids since 2006. The program has expanded across all areas of Alameda County, making it one of the most active Safe Routes to Schools programs in the nation. Learn more at http://alamedacountysr2s.org/events/international-walk-roll-to-school-day/