Successful groundbreaking of $80 million hi-tech I-80 project.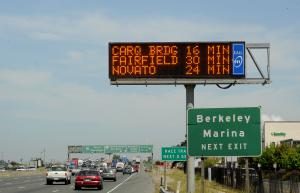 Dignitaries and the public celebrated the Interstate 80 Integrated Corridor Mobility Project Groundbreaking at Shorebird Park at the I-80 Frontage Road in Emeryville (North of Powell Street near Chevy's Restaurant) on Friday, October 19, 2012. See photos and the program.
This project will implement ramp metering and incident management along I-80 from the San Francisco-Oakland Bay Bridge Toll Plaza in Alameda County to the Carquinez Bridge in Contra Costa County. For more information, see the press release and a cool video on the I-80 Integrated Corridor Mobility web page.