More than 5000 Alameda County students from 90 schools participated in the 4th Annual Bike to School Day.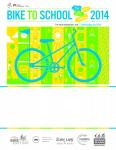 Alameda County launched its first Bike to School Day four years ago through the Safe Routes to Schools Program, as a complement to Bike to Work Day.  Due to the event's overwhelming success, Bike to School Day is now its own happening, with over 90 Alameda County schools participating.
Pedal parades, helmet fittings and bike decoration stations are just some of the kid-friendly activities at participating schools. Several Alameda CTC Commissioners attended these events.
Research indicates that children who walk or bike to school have higher daily levels of physical activity and better cardiovascular fitness than children who do not actively commute to school. Alameda CTC, through its Safe Routes to Schools program, is making many resources available to students who don't know how to ride a bike, or whose bikes need to be repaired. Bike East Bay also offers a number of learn-to-ride classes and family cycling workshops in both English
and Spanish.
The BikeMobile is a program that helps youth repair their bikes, teaches mechanics and safety, and provides decoration supplies, made appearances at Pleasanton's Shadow Cliffs Park Energizer Station from 6:30-9 a.m., then at Marshall Elementary School in Castro Valley from 2-4 p.m. and finally at the Bike Away from Work Party in Old Oakland in the evening.
Last year, the BikeMobile fixed over 450 bikes during the month of May alone, enabling kids to ride to school safely.
For a full list of schools that participated in Bike to School Day, please see www.bikeeastbay.org/b2sd.
Read the Press Release.