The Platinum Sneaker Award is the top prize for the Golden Sneaker Contest, an annual contest organized by the Alameda County Safe Routes to Schools Program and funded by Alameda CTC with support from the Metropolitan Transportation Commission. This year, nearly 60,000 students from Alameda County elementary, middle and high schools participated in the Golden Sneaker Contest. For the third year in a row, trophies for the winning classrooms were made with sneakers donated by the Golden State Warriors Community Foundation.
San Leandro High School was one of 89 schools participating in the countywide Golden Sneaker Contest, which was held from February 25 – March 8, and has the additional distinction of being the first ever high school to receive the Platinum Sneaker Award.
Alameda CTC honored San Leandro High School at its April 25 Commission Meeting as winner of the 2019 Platinum Sneaker Award.
"This is a great honor for our school. My leadership students work really hard to ensure all Safe Route to Schools events go off without a hitch." said San Leandro High School teacher, Jan Othen.
"Every year the Golden Sneaker Contest encourages students and families throughout Alameda County to try new active and healthy ways to get to school," says Alameda CTC Chair Richard Valle, Alameda County District 2 Supervisor. "We hope these transportation choices become habits that will last a lifetime."
Congratulations San Leandro High School!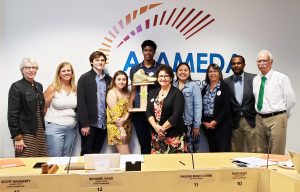 San Leandro High School 2019 Platinum Sneaker Award Winners 
(l.-r.: Deborah Cox, San Leandro Councilmember; Jan Othen, San Leandro High School (SLHS) Leadership Teacher; Andrew Marquez, Cynthia Garcia and Darius Simms, SLHS Students; Alameda CTC Vice Chair Pauline Cutter; Catherine Lazitine, SLHS Student; Kristin Glenchur, SLHS Assistant Principal; Darell Davis, Safe Routes to Schools Program High School Coordinator; Alameda CTC Chair Richard Valle)