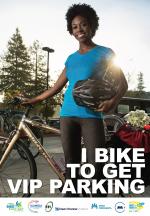 Pump up your tires, learn how to commute by bike and don't forget to put on your helmet. See you in the bike lane!
Alameda CTC has invested significantly in bicycle and pedestrian infrastructure and safety improvements throughout Alameda County, and we can see the results with smoother pavement, safer streets, more bike lanes and fewer system gaps. Read the Press Release.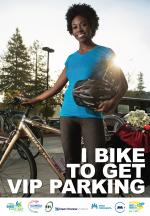 Bike to school or work on Thursday May 11 and take advantage of the wide range of bicycle facility improvements that have been occuring throughout Alameda County thanks in part to voter-approved transportation funds from Measures B and BB. Here is information to get you started:
Alameda CTC supports Bike to School Day through the Measure B/B-funded Safe Routes to Schools Program which supports family-friendly alternatives to driving kids to school, and by funding safe walking and biking paths across Alameda County for all ages and abilities including gap closures in our bikeway network.
Alameda County launched its first Bike to School Day in 2010 through the Safe Routes to Schools Program to complement Bike to Work Day. Participation increases each year. This year 130 schools are participating.