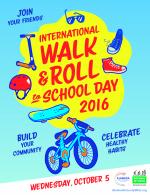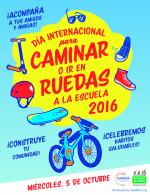 Thousands of Alameda County Students took the healthy route to school — walking, biking, rolling, skating or taking transit on Wednesday, October 5.
Thousands of Alameda County students reaped the benefits of getting to school by walking, riding or scooting on Wednesday, October 5 — International Walk and Roll to School Day. Alameda County's Safe Routes to Schools Program supports events at schools throughout the county and numerous visits by the BikeMobile to schools all week, reminding students, parents and educators of the many benefits of walking or rolling or taking transit to school instead of traveling by car.
International Walk and Roll to School Day aims to be a catalyst for change by inspiring long-term healthy routines of walking, cycling or scooting to school. Students can be healthier, happier and do better in school when they are more physically active, and supporting walking and rolling to school reduces cars on the road and improves air quality. More information, including downloadable materials for schools are located on the Alameda County Safe Routes to Schools Online Resource Center.