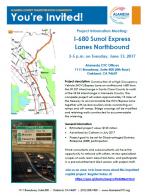 You're invited to join us on Tuesday, June 13 from 3-5 p.m. to learn about construction contracting opportunities for the northbound I-680 express lanes project.
Join us at a project contracting information meeting about the I-680 Northbound Sunol Express Lanes.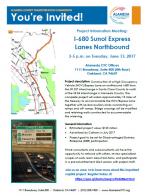 When: 3-5 p.m. on Tuesday, June 13
Where: Alameda CTC Offices, 1111 Broadway, Suite 800 (8th floor), Oakland, CA 94607
Prime contractors and subcontractors will have the opportunity to network with others, review specialized scopes of work, learn about bid items and participate in a pre-advertisement Q&A session with project staff.
Register today at:
https://goo.gl/forms/nwg1UYbdZ8BeYrZc2
For more information, see the meeting flyer.